Brahman Feature Show MONTO 2017
On the HOOK……
CHAMPION GRASSFED CARCASS
CHAMPION OVERALL CARCASS
CHAMPION Carcass  PEN of STEERS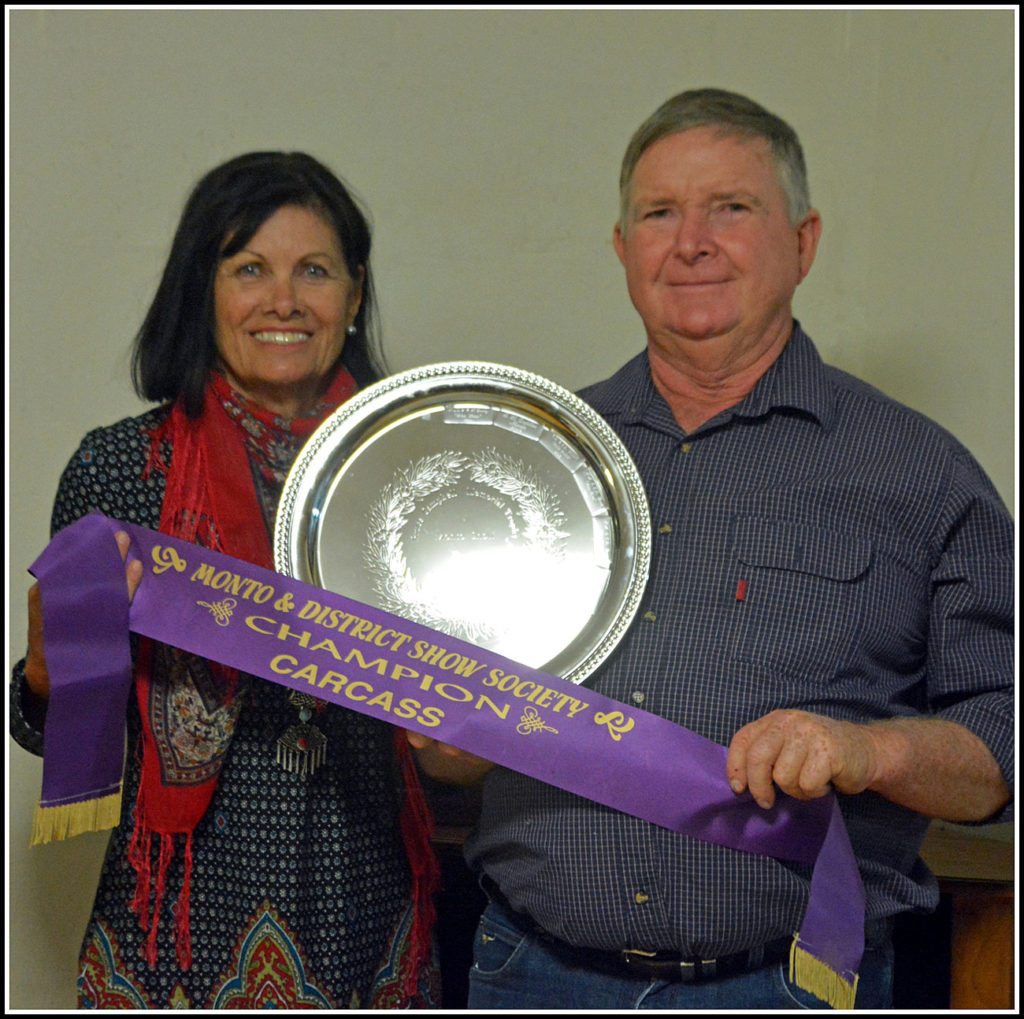 On the HOOF…..
FIRST         Pen 4 Tooth Steers
SECOND    Pen of 2 Tooth Steers
FIRST         Pen of Replacement Heifers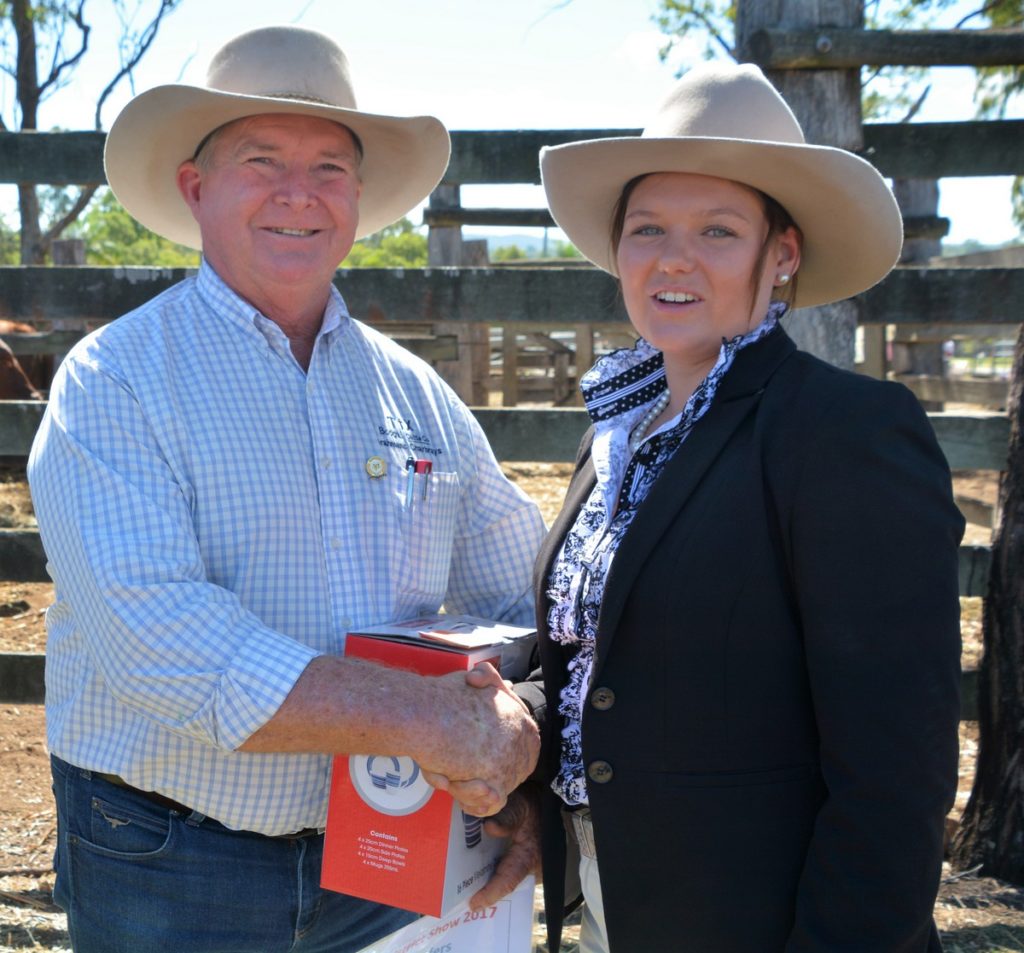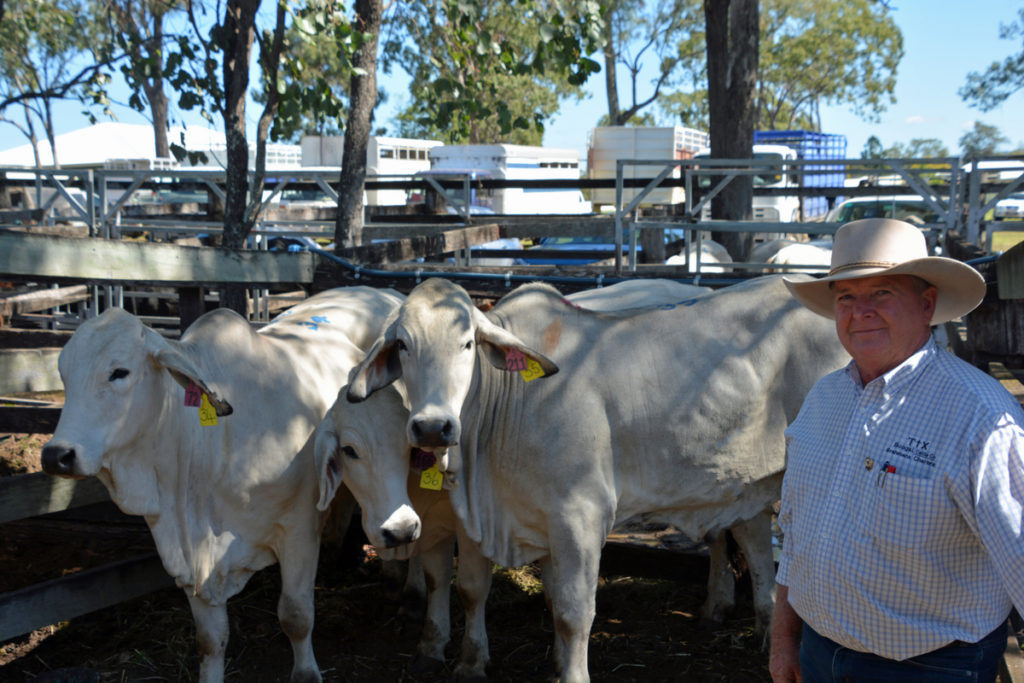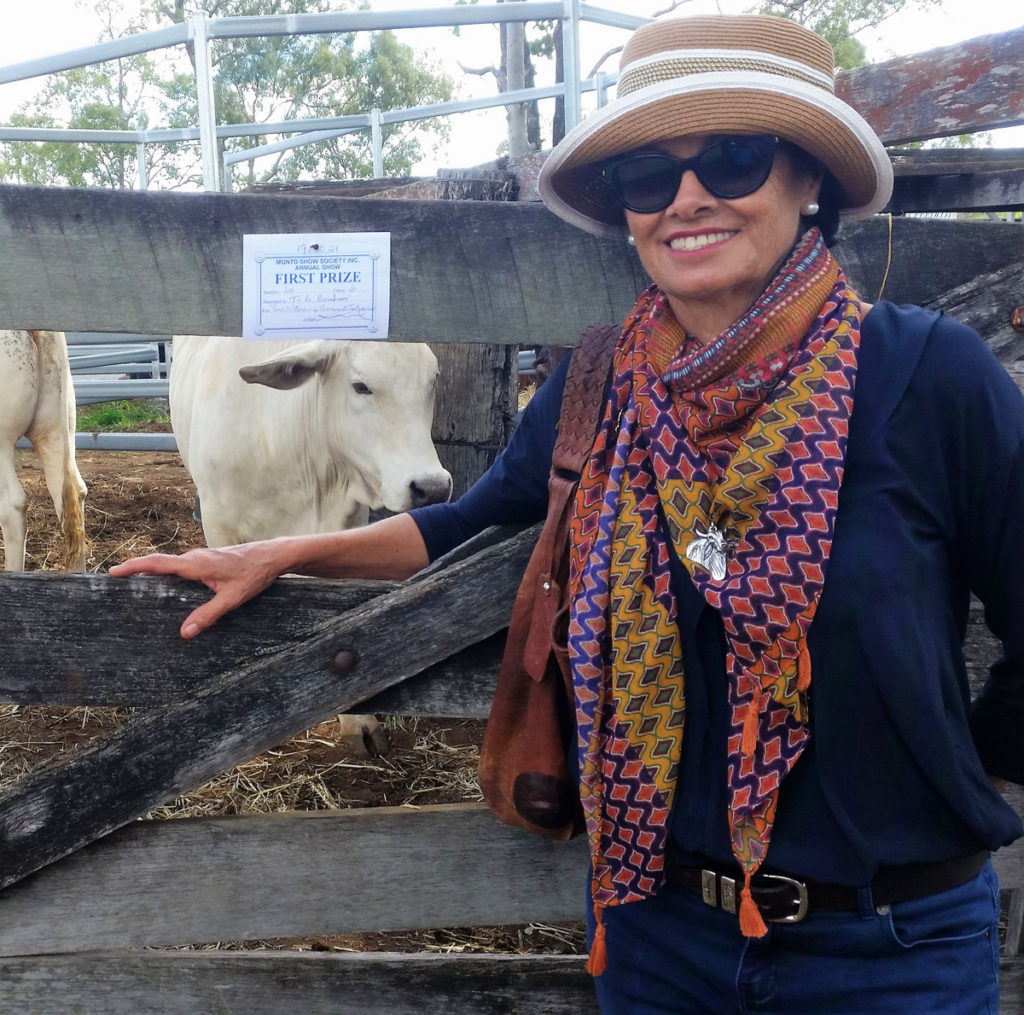 1. Tex with Prime Cattle Judge Laura Grubb ,Teys, Biloela              2. Tex with winning steers                                         3.Bron with winning Replacement heifers
These wins at Monto Brahman Feature Show in the Prime Cattle Interbreed Section were a great thrill to us. As you know , the focus of our breeding programme has always been the promotion of the commercial attributes of our grassfed steers and to dispel the sometimes poor public perception over the quality of Brahman beef.
Boogal Cattle Co was also delighted to sponsor the Grand Champion Bull  and the Champion Junior Heifer in the Stud Section of the successful Monto Brahman Feature Show.

Grand Champion Bull Raglan Mr Mac with Aimee Olive, Sponsors Bronwyn and Tex Burnham of Boogal Cattle Co with Brett Nobbs Judge and Associate Amy Harch
WORLD BRAHMAN CONGRESS ROCKHAMPTON 2016
We were thrilled to support the Commercial Show and Sale at the World Brahman Congress in May 2016 by entering a pen of 10 purebred grey brahman steers.
Even more thrilled to be awarded 1st place for our pen. This win certainly set the tone for us that guaranteed a great week of "all things brahman " !
(As our preferred method of selling bulls is grass-fed in the paddock….not grain fed….. we are always keen to support the commercial aspects of these cattle shows …. we do however give credit to those exhibitors who show their magnificent bulls up in the show ring thereby providing a rich source of media publicity to our brahman breed.)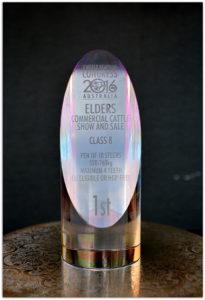 'Boogal  Beef'  ……..The proof is in the feedback sheet …
Over the past 40 years, our Boogal Brahmans have always excited us with their continued performance in commercial trials and also in the results as shown in our own carcase feedback. With Boogal bulls used exclusively in our own commercial females, we are able to constantly monitor not only the performance of our bulls, but their progeny as well.
With the Boogal Brahman's early maturing ability to reach a 300+kg weight with suitable fat cover, our animals prove themselves to be the ideal EU article fitting specifications with continued ease.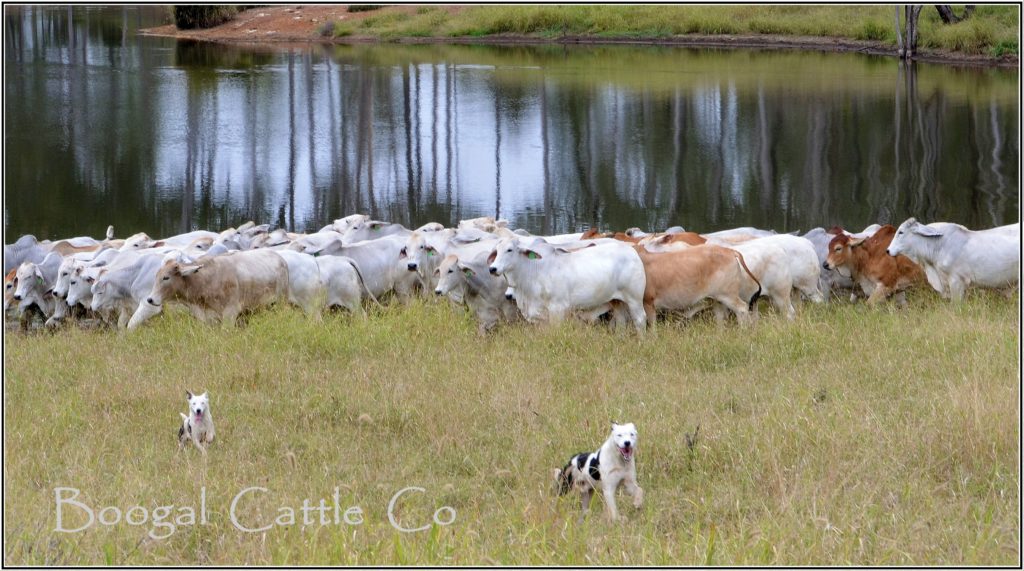 The early finishing ability of our Boogal sired steers has the added benefit of an advantageous environmental outcome, in that our paddocks are allowed more spelling time with the early lightening of stock numbers before Autumn
It is this  confidence in the ability of our high grade Brahmans to meet market requirements that has led us over the years to enter trials to promote carcase attributes.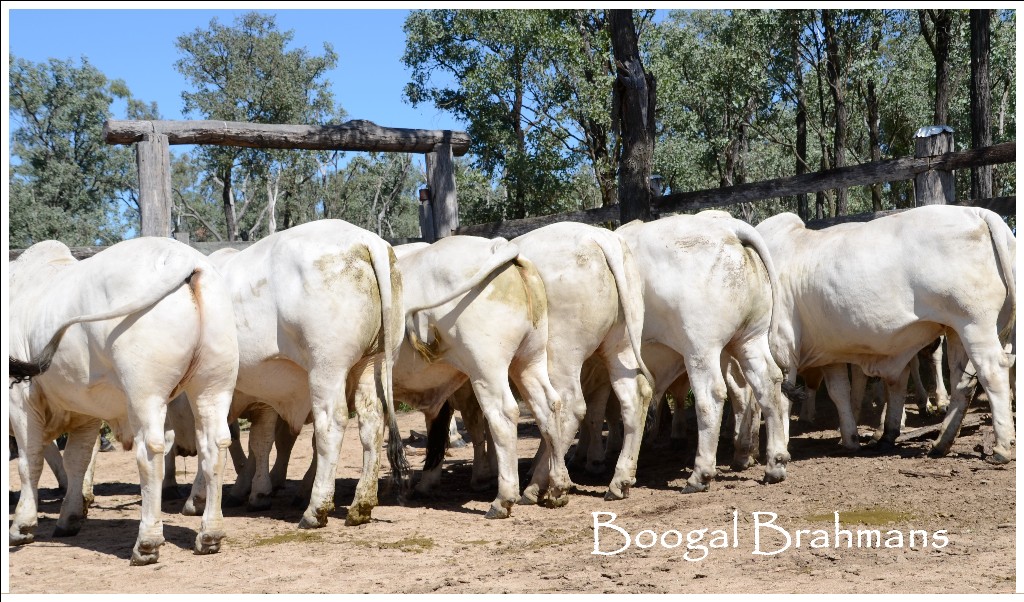 Tex, Dan and Lance in the steer paddocksEU Accredited since 2000, Boogalgopal EU beef processed through Beenleigh and AMH Dinmore, has consistenlty achieved a
96-100% success rate with chiller assessment criteria. Our purebred Brahman beef as well as our Charolais infused beef is the perfect article for this market with steers turned off grass between 20-28 months of age.
With proof in each feedback sheet received from the meatworks, we no longer feel the need to prove the marketability of our beef through the continued entry into trials.
BEEF 2012
However when the opportunity arose to help promote brahman beef at Beef 2012 , we were thrilled to be involved .
10 steers were sent to Melbrig Feedlot to be finished with 90 more steers provided by nine more Brahman stud breeders . The finished product was put through the highly successful BRAHMAN  STONEGRILL RESTAURANT on site at Beef 2012 Rockhampton where over 1000 steaks ar day were served to very satisfied customers .This was a wonderful promotion .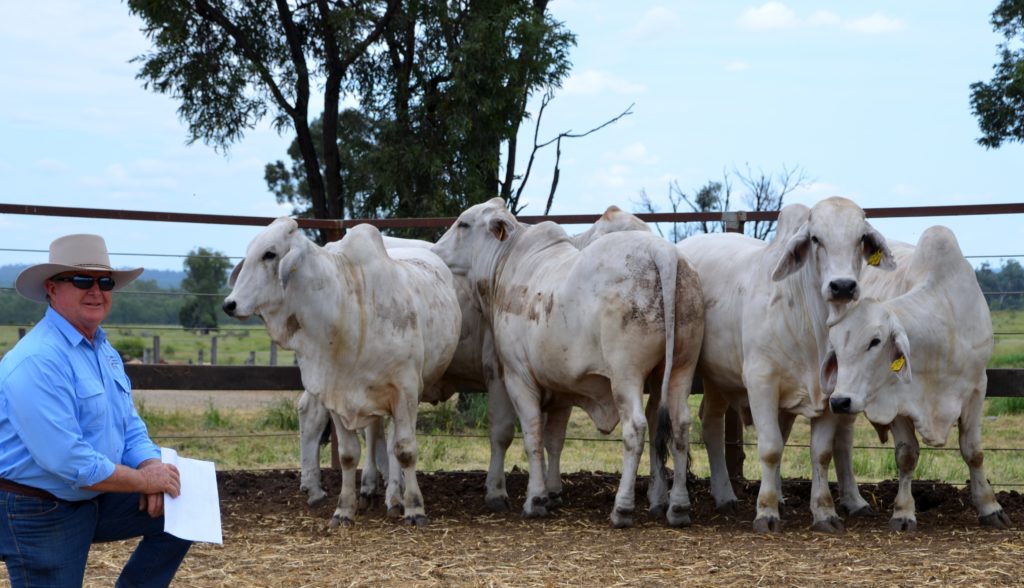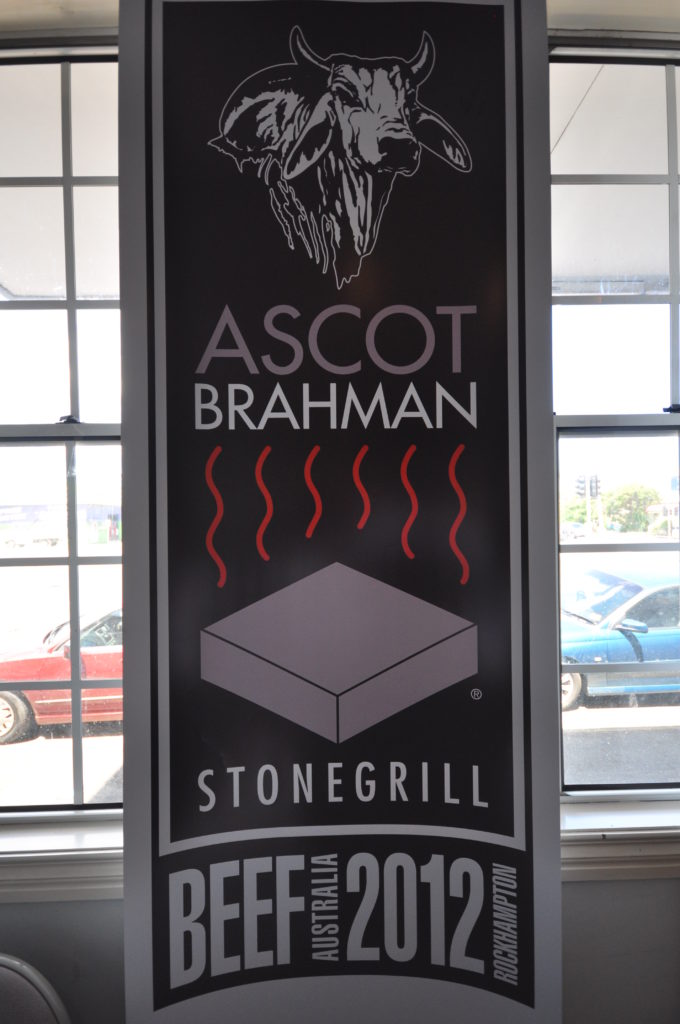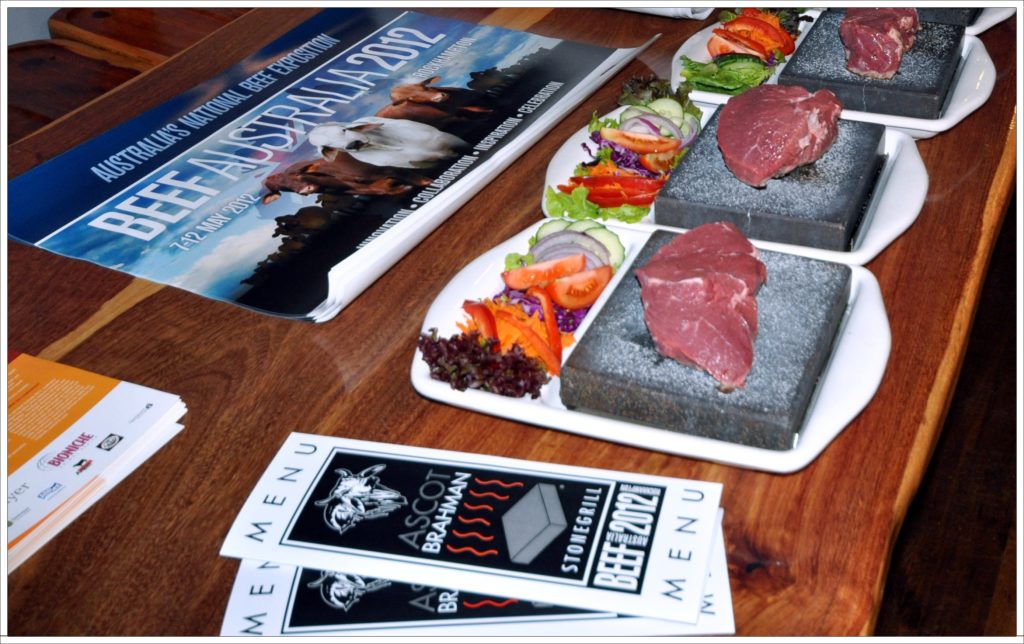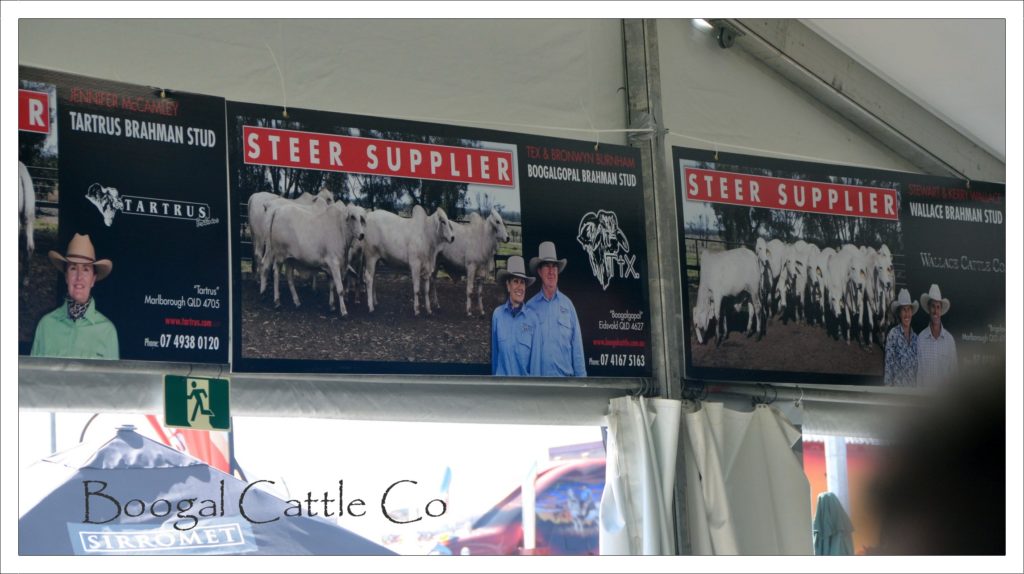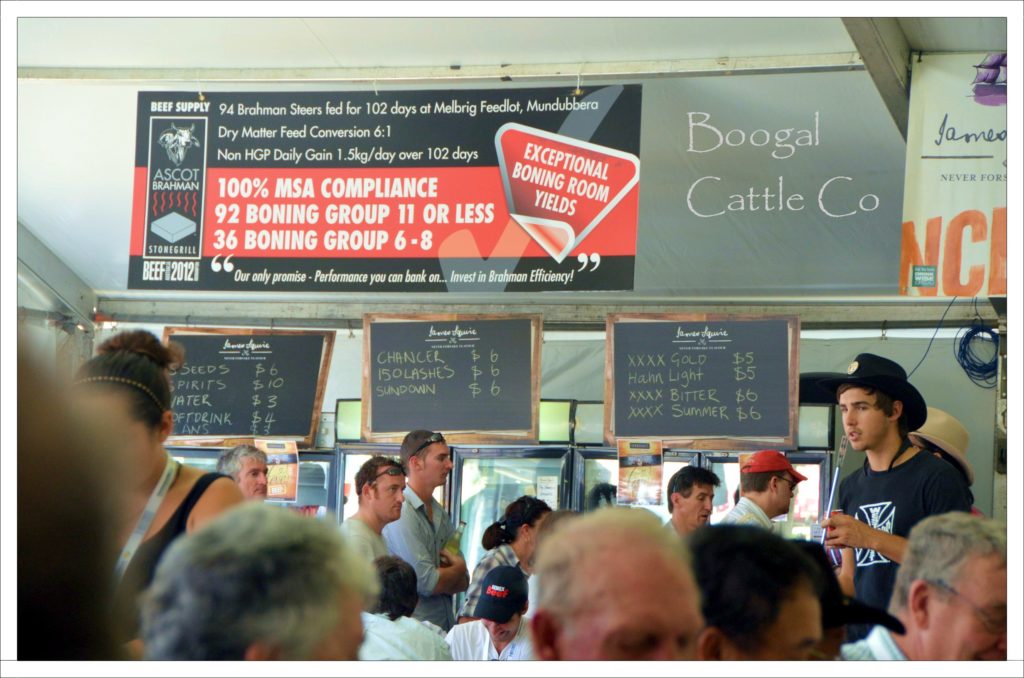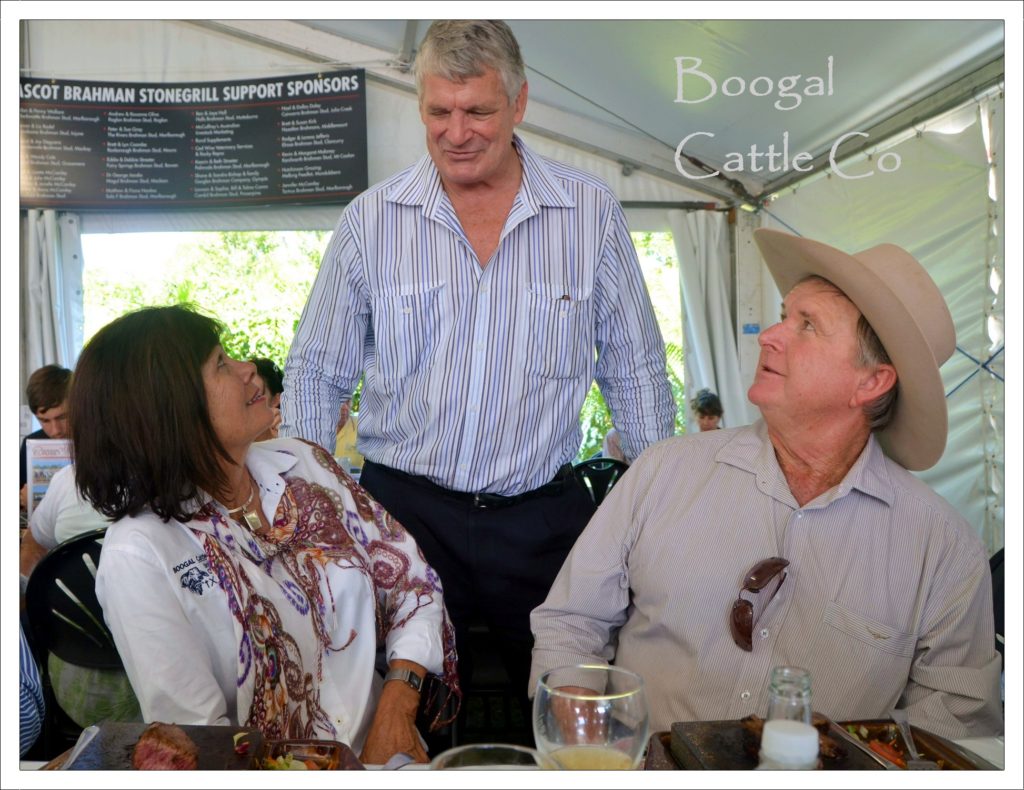 Many Major achievements have been notched up however in the pas
Brahman Bullock Producer of the Year Award
This award, created in 1994 and 1995, recognized the consistent turn-off of young 2 and 4 tooth steers meeting market requirements of optimum fat depth, weight, meat and fat colour etc.
Boogal Cattle Co was recognized by the Australian Brahman Breeders' Association and the Meat Processing Sector for excellence in bullock and prime steer production with a Highly Commended in both years the award was presented.
National Aus-Meat All Breeds Feedlot Trials
1990 –
3rd Over all (50 entries)
3rd Bone-out
4th Market Suitability
1991 –
8th Bone-out (av yield 72.5)
1993 –
ABBA Woolworths Trial 1994
Top liveweight gain (1.79) after 80 days
Chiller assessment collected on steers fully complied with the Woolworths specifications for fat, colour, marbling, meat quality, eye muscle and acid levels.
A.M.H. Beef City Trials 1994
Draft of 20 Boogalgopal Steers
Av entry weight – 421kgs
Av exit weight – 653kgs
HDCW – 385kgs
Dressing % – 58.99% (trial av 56/7%)
72% Boogalgopal draft achieved top yield band %
(compared to trial average of 45%)
Callide Dawson Beef Carcase Classic
1998 –
5th in pen (60 entries)
3rd individual carcase (180 entries)
2000 –
Champion Grainfed Carcase
Best of 158 entries
Rockhampton Show
2000 Champion Carcase Led Steer Competition
Boogalgopal Big Mac
Regular winners and place getters in local shows and competitions
Champion Females produce Champion Bulls
Boogalgopal is well known for the quality of our female lines. For the past 15 years, we have been in the winners circle at the North Burnett John James Prime Cattle Show including Champion Pen 2004, 2005, 2007. The top priced Pen of Charbray and Brahman cows was also awarded to Boogal Cattle Co in 2008.
The champion pen of Females in 2005 contained 3 of the same females that took out the Champion pen of Replacement Heifers in 1989! This is a real testament to the fertility of our females.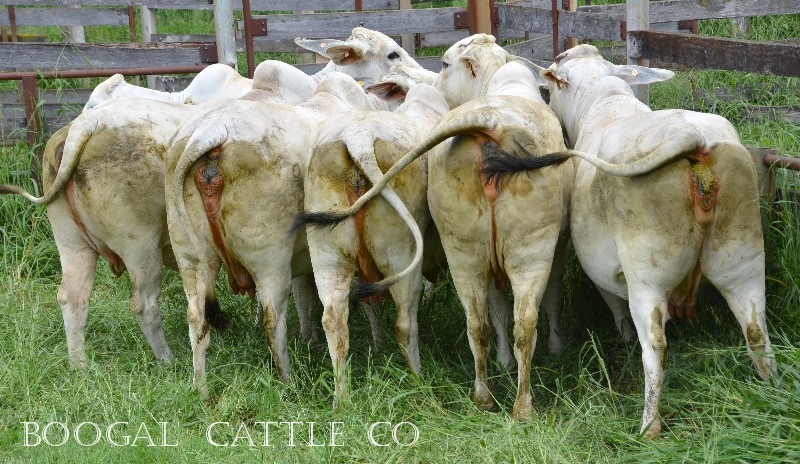 Top Priced Cows 2008
Champion Pen Cows 2007
John James Livestock Prime Cattle Show
Champion Pen Females 2005
John James Livestock Prime Cattle Show
Champion Pen Females 2004
John James Livestock Prime Cattle Show